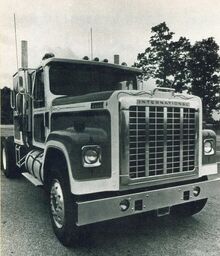 Bad Gandoler is a type of
gandoler
, It has a semi-cabin design. It is one of the gandoler easier to find in the field and in the desert, it is possible to recognize it very easily, since it is the truck more curved round of the game, opposite of the other trucks. You can attach a trailer just like the other trucks. He is seen with pipe for the first time in Reuniting the
gandolers
where 1970s impacts with the trailer. Later it was used in the mission Tanker Commander, to steal the pipe towards the concessionaire of the 1970s. Curiously, his tank does not seem to be full, because when he is shot anywhere, it does not explode nor will there be any fuel. The Tanker is the slower truck than the Linerunner and the Roadtrain, but it has more acceleration than the others.
It has enough speed and regular resistance. It is in some colors like meat color, or dark blue. It can be obtained by means of a trick but we will leave the truck with a tank trailer belonging to Xoomer.
One of the special functions of the Tanker is the ability to engage heavy trailers, such as the one found in Easter Basin and the one located in Bone County at the gas station to the west of Las Venturas, Is only useful in trucker missions, because off missions, would only serve to reduce the acceleration and speed of the vehicle, being an addition that does not have much use. When moving at high speed or when taking a sharp turn, trailers may wobble and, if necessary, be released easily. The ability to tow trailers is shared with Big Gandoler and Gandoler, and also, but on another level, the Gandolers. This vehicle is required for the second list of imports slate.
Ad blocker interference detected!
Wikia is a free-to-use site that makes money from advertising. We have a modified experience for viewers using ad blockers

Wikia is not accessible if you've made further modifications. Remove the custom ad blocker rule(s) and the page will load as expected.